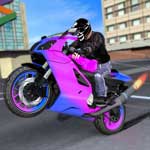 Sport Bike Racing
Are you ready to travel in the open world on a motorcycle? Can you do aerobatics and drift with your motorcycle?
Then get ready for an exciting wild adventure Sports Bike Racing. This game will test your speed, control, patience, accuracy, precision and of course your driving skills while having a blast.
So how long will you wait? Drive now and enjoy the ride. Features :
- Three Modes: Parkour, Drift-X and Time Trial.
- Four beautifully designed locations: City, Harbor, Offroad and Airport.
- The game currently offers 10 awesome motorcycles with different Acceleration, Handling and Offroad mechanics. - You Can Upgrade and Customize.
- Upgrade: You can upgrade the engine, turbo, tires, transmission and suspension.
- Personalization: Customize your bike by choosing from 24 Vinyl, multicolor LED and 14 color Metal Finish and multicolor Paint for both Full Body and Rims.
CONTROLS:
Arrow Keys or WASD - Race, Break, Left & Right
Space - Break