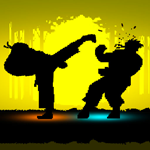 Shadow Fights
Shadow Fights game is out now and it is even unblocked at schools.
Fight with shadows use your fighting skills to beat your opponents.
You can play this game with your friends.
This is a big chance for you to prove who is better.
This game is appropriate for you to play at school with permission of your teacher.
HAVE FUN!!
CONTROLS
PLAYER 1
WASD FOR MOVEMENT
F FOR PUNCH
G FOR KİCK
PLAYER 2
ARROW KEYS FOR MOVEMENT
K FOR PUNCH
L FOR KİCK