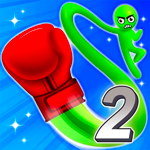 Rocket Punch 2 Online
Rocket Punch 2 is now available on our website and it is even unblocked at schools.
This super fun game has a lot of dynamics and various levels.
Objective is destroy the enemy with your punch by drawing route for your punch.
But get avoid from hitting people needs help.
CONTROLS
HOLD AND DRAG MOUSE FOR PUNCH