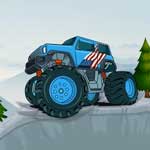 Monster Truck Mountain Climb
Monster Truck Mountain Climb is out now!!
You drive a car that totally a monster for mountains ride over hills jump you can even flip with your car.
Collect golds and complete levels with reachind the end point.
This game does not include any element of violence and it is appropriate for you to play at school.
CONTROLS
A AND D FOR DRİVE
W AND SPACE FOR JUMP
PLAY COOL GAMES!!