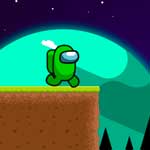 Among As Running
Among Us Running is now available!!
This super fun game has different kind of challenges.
First of all you need to predict when to jump and this jump might be once or twice.
Be careful about TNTs and avoid getting crash with them.
Dont forget about coins and keep collecting.
This game is totally proper for you to play at school.
It is unblocked at schools you can play it with your friends as you wish.
CONTROLS
LEFT CLİCK FOR JUMP
DOUBLE CLİCK FOR DOUBLE JUMP